About this course...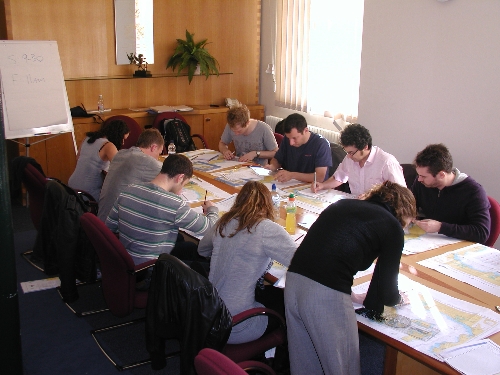 RYA Day Skipper Theory courses London classroom's Webber st SE18EN very Nr Waterloo Station . (see bottom of page for dates)
The Day Skipper shorebased course is for those that have done little or no actual navigation, regardless of whether you have a lot of sailing experience or none.
The course will provide you with a sound basis of navigational and sailing theory, including chartwork, pilotage, passage-planning weather and sea-safety.
Classroom training is a vital complement to our RYA practical sailing courses. We make subjects relevant, interesting and fun to study. Our shore based course instructors are all current practical RYA sailing instructors with the patience, knowledge and experience to bring the subject to life.
Why Hamilton Sailing London theory ?
We have been teaching in London non stop for the past 15 years. We have had many students who have gone on to skipper for themselves abroad and in the UK. We keep class numbers low, we provide more free material than any other school they include Charts, informative books, Sailing Theory book, videos, weekly easy to understand handouts this includes a free "Learning Zone"
The courses are run over eight weeks, the very best way to learn (one night per week start time 6.30pm plus two days over a weekend) Over 40hrs tuition + exams.
" What if I miss a night ? " its possible to still catch up with our help, We do everything we can to help you learn and pass !

We believe that the best way to learn is by talking to a teacher who is a Yachtmaster instructor, they can explain the subject and answers your questions face to face.
We also mark your exam on the last day and award you your certificate on that day in person.
Hamilton sailing will stand by you. Our Pass rate is 99%
but if you did not pass the course at the first attempt and you attended all evenings.then we will keep giving you opportunities, free of charge until you do pass. !!
Course topics include: The basics of seamanship
the essentials of coastal navigation and pilotage,tides
chartwork,electronic charts, position fixing.
Plotting a course to steer, weather forecasting and meteorology
collision regulations, emergency and safety procedures.

We offer Friendly efficient office support offering an almost immediate response to any question anytime.
Recent testimonials:
Re: Day Skipper Theory Course
Thanks to Jon and the team at Hamilton Sailing for an excellent Day Skipper Theory course. Very well structured and presented, it was informative, thorough and very enjoyable. I feel it has given me a very good understanding of the theory and also the confidence as I move on to the practical.
Malcolm
Mark,Just a quick note to thank you for the course, it was a great mix of teaching, experience and humor, and a very nice group. I will recommend it without a doubt.
Looking forward to the practical course in June.
Thanks again,
Francois

Dear Mark/ Owen,
I wanted to write to say thank you for an excellent and enjoyable Day Skipper course,
I'm very pleased that the 2 weekend course I'd enrolled on got cancelled so that I could join yours; 7 weeks of learning bit by bit & letting it sink in seems a far better way of feeling that what we learned will stick,
thank you again,
Cliff


Call to discuss your needs......
Available dates for this course...
| | | |
| --- | --- | --- |
| 7th 14th 21ts 28th October 4th 11th 18th 25th Nov weekend 30th 31st Nov 2019 @ Waterloo | £385 | Book Now |
How to book...
If you're ready to book now, just select one of the dates above to go to the booking form.
If you just want more information, click here to contact us,
or phone us for a no obligation chat on 07990 777 129.
Request a call-back, and we'll contact you to arrange the booking.
You might also be interested in...