About this course...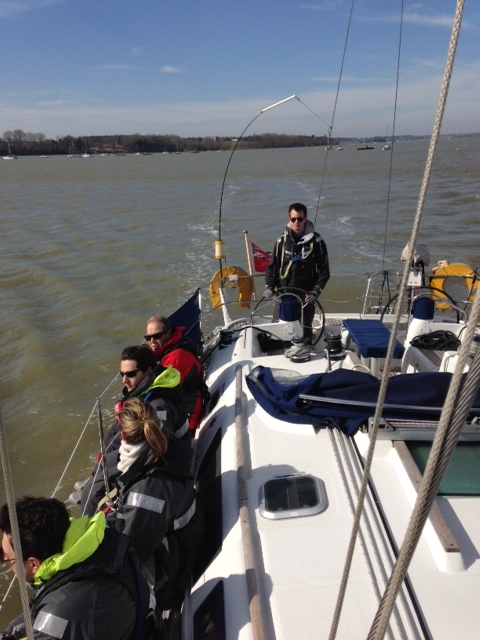 Competent Crew Course.
Practical courses are run from Neptune Marina Ipswich Suffolk, just 1 hour from Liverpool Street. (Comp crew courses are run with all day skipper practical dates) Over 5 consec days (incorps a weekend) or 2 weekend (one being a long weekend ) or 3 weekends in summer (see below for dates)
This course teaches you the basics of sailing and all the skills you need to be an effective member of a yacht crew. It is suitable for complete beginners or those with limited experience who want to ensure a sound foundation before the next level.

You will learn how to steer the boat on a compass heading, how to set and trim sails, operate winches, how to prepare a boat to enter and leave harbour and lock, how to pick up moorings and anchor, and ropework and knots.
You will live aboard the boat with the instructor & other Comp crew and Day skipper students (you will be allocated a cabin/bunk on the first day) Each day will involve a mixture of short passages from port to port and intensive exercises. We will be in harbour or anchorage every night but on one evening you will get a few hours experience of night sailing.
The courses are always great fun. All meals are provided aboard but there will be opportunities to go ashore during some evenings.
Achievement: RYA Competent Crew. You will be welcome as crew aboard any yacht. Many owners and skippers are looking for crew and this certificate could be your passport to lots more sailing.
Some recent feedback
Fantastic experience and a fantastic instructor. Mark (Hamilton) takes you through each syllabus clearly, channeling his vast sailing knowledge into easy to follow language & direction. I have trained with Mark and have seen his care and attention to detail first hand. He instills a level of confidence in his students that allows them to push on to the next level of training or sailing capabilities with real belief and a sense of accomplishment. I just completed my first course with Hamilton Sailing, and was impressed enough to book a further two straight after ! You'll be hard pushed to find a better or more experienced instructor as far as i'm concerned. Very friendly, approachable; he brings a calm sociable to the table. I was really REALLY surprised at how much we had covered when our group recapped our 5 days onboard. It didn't feel like a rigid stuffy course, but areas of the coursework just soaked in. The boat too is beautiful and so easy to handle. I'm gonna have a hard time sailing with an ordinary tiller after being spoilt rotten onboard Sirius. Again, fantastic course and fantastic instructor ! .... Steve 2019
Oil skin waterproofs are supplied free of charge
All courses held at Neptune Quay Ipswich IP4 1QJ
Maximum student:instructor ratio 5:1
Available dates for this course...
| | | |
| --- | --- | --- |
| 2 x weekend course 26th 27th Oct & 1st 2nd 3rd Nov 2019 | £599 | Book Now |
| 16th 17th & 22nd 23rd 24th Nov two weekend course at Ipswich | £599 | Book Now |
| 30th Nov 1st 2nd Dec & 14th 15th Dec 2019 Two weekend course@ Ipswich | £549 | Book Now |
| 13th 14th 15th March & 21 22nd March 2020 A two weekend course | £549 | Book Now |
| 27th 28th 29th March & 4th 5th April 2020 Two weekend course @ Ipswich | £549 | Book Now |
| 10th to 14th April 2020 Easter course two Bank holidays & a weekend | £625 | Book Now |
| 18th 19th April & 24th 25th 26th April 2020 two weekend course | £625 | Book Now |
| 2nd 3rd May & 8th 9th 10th May 2020 two weekend and BHL | £625 | Book Now |
| 16th 17th May & 23rd 24th 25th May Bh and Two weekends | £625 | Book Now |
| 27th to 31st May 2020 Incorps a weekend @ Ipswich | £625 | Book Now |
| 5th 6th 7th June & 13th 14th June 2020 Two weekend course | £625 | Book Now |
| 13th 14th 15th June & 20th 21st June 2020 two weekends @ Ipswich | £625 | Book Now |
How to book...
If you're ready to book now, just select one of the dates above to go to the booking form.
If you just want more information, click here to contact us,
or phone us for a no obligation chat on 07990 777 129.
Request a call-back, and we'll contact you to arrange the booking.
You might also be interested in...