About this course...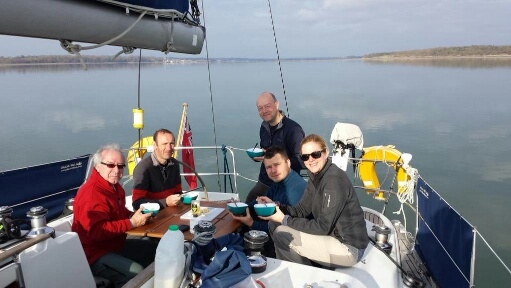 The RYA Start Yachting Course is a 2-day practical course is for the complete novice or for someone who wants to try sailing for the first time. The course is run from Ipswich just 1 hr from Liverpool st BR station. Free parking for those driving 1 hr from m25
It is a great introduction to sailing and seamanship
These early stages of learning to sail can often be the most important, and Hamilton sailing will give you firm foundations upon which you can build your knowledge and experience
What to expect ? You join the yacht at Ipswich Marina meet the skipper and up to 4 other crew. The other crew may be first timers, or doing a weekend sail.
You will be shown around the boat, allocated a bunk (you sleep on the boat) and, after a safety briefing we will usually sail asap. You will be involved sailing the yacht from the beginning you will be helming the boat down the river. you will spend a day at sea 'learning the ropes', how to steer the yacht, set and trim sails, tack and gybe and lots more. Lunch will be 'on-the-go'. On Saturday night you will find yourself perhaps at another anchorage, or alongside.Dinner is on-board. you will sleep well that night ! A early-ish start for an FUN sail back to Ipswich.finishing about 1500 on the Sunday.
All meals on board, fuel, mooring fees are included in the price.
Gor-tex sailing waterproof clothing is supplied FREE of charge.
You will receive a list of what to bring when you book.We will send you a link to Joining instructions and booking conditions please read them.
All course held at Beacon Marina St Peters Dock Rd, New cut East IP3 0EA
Parking is available at the Marina

below is a recent testimonial:
Hi Mark,
I wanted to send you a quick email to give you some feedback on the Start Yachting course Dan & I completed last weekend.
I selected your company based purely on internet research, where you appeared to offer one of the best-equipped boats for a reasonable price (including waterproofs and food for the weekend is a nice touch). We weren't disappointed upon seeing Sirius, which is a very tidy boat, surprisingly spacious and obviously well cared for.

Ian was a great instructor; very patient with us first timers whilst trying hard to cater for the varying experience levels aboard the boat that weekend. He selflessly prepared all the meals during the weekend, which were simple yet very tasty. He never outwardly grew bored with answering our questions, and made the whole experience very interesting yet relaxing.
I would happily recommend Ian and your company, and Dan & I look forward to completing our Competent Crew course in the future.
Dave


RYA Start Yachting also makes a great gift for any special occasion - contact us for details of our gift vouchers
Maximum student:instructor ratio 5:1
Available dates for this course...
| | | |
| --- | --- | --- |
| 24th 25th Feb 2024 @ Ipswich | £300 | Book Now |
| 2nd 3rd March 2024 @ Ipswich | £300 | Book Now |
| 20th 21st April 2024 @ Ipswich | £300 | Book Now |
| 11th 12th May 2024 @ Ipswich | £300 | Book Now |
| 15th 16th June @ Ipswich | £300 | Book Now |
| 14th 15th Sept @ Ipswich | £300 | Book Now |
How to book...
If you're ready to book now, just select one of the dates above to go to the booking form.
If you just want more information, click here to contact us,
or phone us for a no obligation chat on 07990 777 129.
Request a call-back, and we'll contact you to arrange the booking.
You might also be interested in...