About this course...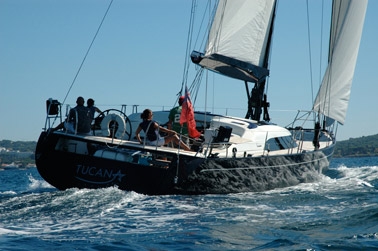 The ICC was developed in an effort to provide acceptable certification for cross-border operation of pleasure craft within Europe. However, it is not a European 'licence'. It has been formally accepted by a few countries – including UK. Most others have not formally accepted it in law but their authorities have generally accepted it as evidence of competence in practice the ICC is a very useful document to have and most authorities will either accept it.
Who Can Issue an ICC?
In the UK, the RYA is authorized to issue ICC's to eligible people who can show evidence of competence.
What Competency is Required to get an ICC?
You need to have knowledge and skill at about Day Skipper standard (or Powerboat 2 for RIBs etc). Proof of competence can be achieved by completing an RYA Practical course and obtaining a course completion certificate. Competence can also be shown by attending a direct assessment by an approved Training Centre. Hamilton Sailing is an approved assessment centre for the ICC
Who is Eligible?
In the UK, ICCs may be issued to the following: UK nationals, bona fide UK residents (of any nationality), to nationals of the USA and Canada, and to nationals of any other non-UNECE (UN Economic Commission for Europe) countries.
Types of ICC.
ICCs are issued for either power or sailing craft (yachts). ICCs for sailing craft can be issued to holders of RYA Day Skipper (sail), Coastal Skipper (sail) course completion certificates or Yachtmaster Sail Certificates of Competence. The ICC for sail automatically includes validity for power craft up to 10 meters.
Procedure to Obtain an ICC for Coastal Waters.?
Download and print an ICC application form from the RYA website – RYA.org.uk.
If you have an appropriate practical certificate you can simply make a copy and send it to the RYA with the application and the application fee and a passport photograph. If you have trained with Hamilton Sailing we will assist you with completing the form.
If you consider you already have the competence but have not done a Day Skipper Course, you can arrange for an ICC Assessment. This assessment comprises a practical test conducted by an RYA instructor aboard a yacht in coastal waters. We do the test over one of our weekend sails ( see weekend sails for dates) we include tuition on this weekend.
Or we can organise a bespoke one day on board our yacht at Ipswich £690
If you have your own yacht Hamilton Sailing can provide an instructor to do the test in a day. The cost will be the same as our own boat instruction rate. £300
Hamilton Sailing is authorised by the RYA to assess candidates for ICC Sail
The ICC (Sail) certificate is valid for sailing vessels up to 24 metres LOA and for power vessels up to a maximum of 10 metres LOA.

A recent testimonial
I have just completed the ICC with Mark Hamilton. I couldn't have enjoyed the experience more. We had a mixed level of experience amongst the other three crew which could have clearly made it a challenge; you wouldn't have known it though, Marks instructional style is inclusive of all levels without it appearing that any differentiation in the content is happening. That meant everyone learned what they needed to whilst enjoying every second. Mark doesn't miss anything though and he has a friendly and relaxed way of getting the knowledge across at everyone's learning level. We enjoyed some challenging weather but safety was always at the forefront; as well as making sure the conditions allowed for the learning to take place; which it did in spades! I learned, I enjoyed and I passed; I can't rate Hamilton Sailing School enough and I fully intend to take further training with them.
Call for any advice or book a weekend ....All at Neptune Quay
Ipswich IP4 1QJ
Available dates for this course...
| | | |
| --- | --- | --- |
| 24th 25th Feb 2024 @ Ipswich | £300 | Book Now |
| 2nd 3rd March 2024 @ Ipswich | £300 | Book Now |
| 20th 21st April 2024 @ Ipswich | £300 | Book Now |
| 11th 12th May 2024 @ Ipswich | £300 | Book Now |
How to book...
If you're ready to book now, just select one of the dates above to go to the booking form.
If you just want more information, click here to contact us,
or phone us for a no obligation chat on 07990 777 129.
Request a call-back, and we'll contact you to arrange the booking.
You might also be interested in...