About this course...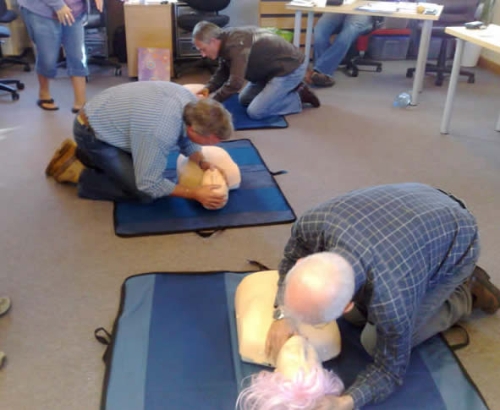 The RYA First Aid at Sea course is a one day course (or 2 x evenings) available at our classroom at Waterloo Webber st SE18EN and Waterloo Road London 5 mins walk from the BR station.
Should you wish to inquire about shore-based
training at your own venue then please contact us.
The cost is £140
Course duration 8hrs
In a medical emergency a little First Aid knowledge and immediate action can save lives, especially in remote locations like out at sea. The First Aid at Sea course is one day course is designed to provide a working knowledge of First Aid for people using small craft and to support skippers of yachts and small craft working within 60nm of a safe haven.
The course is MCA approved and the certificate is valid for 3 years. This is a must have for budding Coastal/Yachtmaster Skippers.
However its a course that will provide skills that you may need at home or at work Something we should all know !
What's in it...
- CPR
- The importance of the Recovery position
Cold water shock
- Burns
- Hypothermia
- Bleeding
- Choking
- Helicopter rescue. VHF
- Bandaging
- Stroke / Heart attack.
- Rescue and self-protection
- First aid kits: contents and use
- We have some great video and use the very best equipment.
We will send you a link to Joining instructions and booking conditions please read them.
some recent feedback:
Hi Mark,
It was a great to attend the first aid course earlier this week.
I found the it very helpful and enjoyable, like the SRC course at the beginning of November.
I will definitely recommend it to the other sailors at my club.
Francesco
Available dates for this course...
| | | |
| --- | --- | --- |
| two evenigs 24th 25th Jan 2024 @ Waterloo London | £140 | Book Now |
How to book...
If you're ready to book now, just select one of the dates above to go to the booking form.
If you just want more information, click here to contact us,
or phone us for a no obligation chat on 07990 777 129.
Request a call-back, and we'll contact you to arrange the booking.
You might also be interested in...